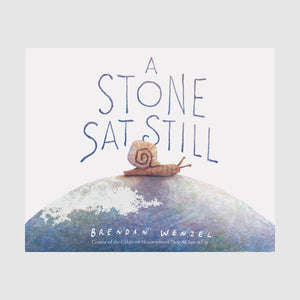 A Stone Sat Still - Brendan Wenzel
Abrams & Chronicle
Regular price £12.99 Sale
A Stone Sat Still tells the story of a seemingly ordinary rock—but to the animals that use it, it is a resting place, a kitchen, a safe haven…even an entire world.
This is a gorgeous exploration of perspective, perception, and the passage of time, with an underlying environmental message that is timely and poignant.

• Filled with stunning illustrations in cut paper, pencil, collage, and paint
• Soothing rhythms invite reading aloud and bedtime snuggles
• Introduces concepts like color, size, function, and time in a way that is easily understandable and teachable for children
With a rhythmic, calming narrative about the stone and its place in the world—and the changing environment—A Stone Sat Still proves Brendan Wenzel's mastery of the picture book form.
Suitable for 3-5 year olds
229x279mm
Hardback
Brendan Wenzel is a New York Times bestselling author and illustrator based in upstate New York. He is a proud collaborator with groups working to protect and conserve wild places and creatures.