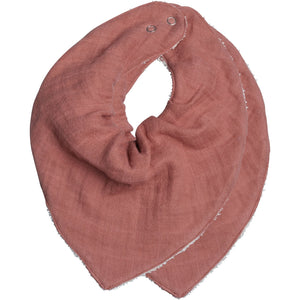 Bandana Bib | 2 Pack, Clay
Fabelab
Regular price £17.00 Sale
Bib - Bandana - 2-pack - Clay
Fabelab's Bandana Bibs are with their shape both practical and great for adding a cool twist. The bibs have terry on the back side, which makes them stay in place and provides higher absorbency.
Fabelab is a playful, organic Scandinavian children's interior brand that believes in creating high quality, innovative and responsibly made products for a cosy and creative home. From their Copenhagen studio, they design products that encourage curiosity and imagination.
The Fabelab founder, Michaela, and her creativity, is at the heart of everything Fabelab does. Inspired by the whimsical, imaginative world of kids as well as trends and the aim to create heirlooms, she is always busy dreaming up new ideas, full of charm and character, lovingly designed in her creative studio in the heart of Copenhagen.
Size 24x21cm
Material: 100% Organic Cotton
Washing instructions: Machine Wash 30 degrees - Tumble Drying Low Heat - Iron Medium - Do Not Bleach - Do Not Dry Clean