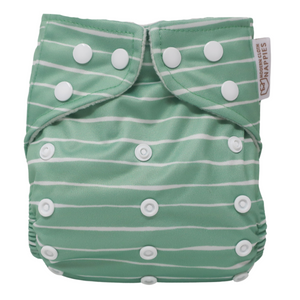 Duo Pocket One Size Reusable Nappy - Shoreline
Modern Cloth Nappies
Regular price £16.95 Sale
Designed as a one-size-fits-most, the duo pocket reusable nappy should fit from around 8-35 lbs (approx 3.5kg - 16kg) baby to toddler. With 4 rows of adjustable snaps, you can adjust the waist and rise of the nappy to get the perfect fit as your baby grows.
Inside you'll find a super-soft stay dry micro-fleece lining which will wick away moisture super fast, to allow your baby's gentle skin to remain dry and keep them in ultimate comfort.

The Modern Cloth Nappies Duo pocket nappies come complete with 2 x bamboo inserts. These absorbent inserts are not only fast drying, but they are naturally antibacterial and a sustainable material too!

The inserts are 3 layers each, with ZERO microfibre inside.

Each nappy is also fitted with a double-gusset at the legs. This is a must have feature, as it reduces the chance of any leaks but it also allows more flexibility and comfort when it comes to your little one.
The outer layer of these reusable nappies are made from PUL which is a treated fabric in order to make it waterproof. This fabric is silky soft & gives the gorgeous artwork a lovely shine. Its quality is second to none, and allows fast drying too.
Recommended washing

Pre-Rinse
Long Wash (sometimes labelled 'cottons') Programme (2.5 hours minimum at max 60°c)
Hand Dry (or tumble dry on LOW if essential).
We recommend regular washing at 40°c to prolong nappy life.