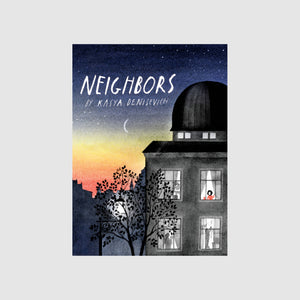 Neighbors - Kasya Denisevich
Abrams & Chronicle
Regular price £13.99 Sale
Neighbors is a contemplative picture book about the lives of our neighbors—who are all around us and ever-present, yet somehow surprisingly elusive.
They're everywhere: next door, above, and even below. More often than not, they
are a mystery, a presence suggested by low hums, footfalls, or perhaps a slammed door.
This book explores the ways that we think about those we exist among, but who remain strangers until we make the brave—and affirming—decision to connect.
• From debut author-illustrator Kasya Denisevich
• An exploration of neighbors coexisting together in one very special apartment building
• Dynamic black-and-white illustrations blur the line between imagination, dreams, and reality.
As Neighbors illustrates so beautifully, that moment of connection is a portal to a world of possibility.
This unique book uses both visual storytelling and compelling text to consider how we map the landscape of the vast world around us, starting with the person just on the other side of the apartment wall.
Suitable for 3-5 year olds
279 x 203mm
Hardback