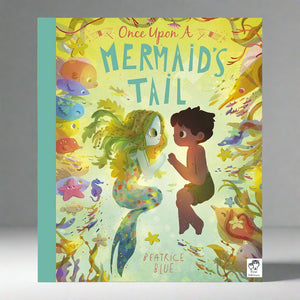 Once Upon a Mermaid's Tail - Beatrice Blue
Quarto Books
A beautiful story of friendship and protecting the oceans.

Theodore has a little boat and a big passion: collecting fish. He already has all different kinds of fish: golden fish, spotty fish, colourful fish and more. Theodore loves nothing better than discovering a new fish for his collection. But one day, he finds something he's never seen before: a tiny creature in a beautiful shell. Ignoring the voice that tells him to leave her alone, he takes her home. Theodore is so excited to add her to his new collection but in a tank she gets weaker and weaker. Can Theodore learn that the creature belongs in the ocean, before it's too late?

Through Theodore, this is a beautiful subtle reminder that children should care for the environment and protect the natural world we live in. We're also reminded that every single thing we do has consequences and even the smallest of actions can have a monumental impact. It's our choice how we care for tomorrow and make the world a better place.

40 pages

Paperback
Best suited for age 4+