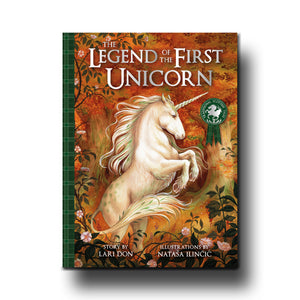 The Legend of the First Unicorn
Floris Books
Once upon a time in Scotland, a young prince had lost his smile.

It seemed nothing could raise a smile from Prince Donald, not the baker's treats or the bard's songs. The court magician tried to make a new magical beast for the prince, but it was so awkward he let it go. Hana, the magician's granddaughter, was still determined to help Donald. Using her grandfather's magic, she invented a majestic creature with the body of a horse and the horn of a gazelle, and called him 'a unicorn'.

Hana and Donald playfully chase the unicorn through the forest, and it seems that this magical animal might hold the key to the prince's smile. But then they discover a darker beast, lurking in the trees.

The unicorn, magical and strong, is Scotland's national animal and heraldic symbol. Renowned Scottish children's author and storyteller Lari Don weaves an enchanting tale, inspired by local folklore, about the origins of the unicorn.

A perfect companion to bestselling picture book The Treasure of the Loch Ness Monster, this stunning and authentic tale is atmospherically brought to life by Nataša Ilinčić's rich illustrations, and is destined to become a classic.
Paperback

294 x 219 mm

Best suited from 4 to 7 years

36 pages